Frequently Asked Questions
What is PebblePad?
PebblePad is an e-portfolio learning journey platform which is all about enabling student-centred pedagogies and experiential learning initiatives.
It helps create and keep together records of learning and achievement that is underpinned by personal, professional and academic development.
Staff can use PebblePad to develop a personal portfolio that might include their own career development and research activities.  It can be used in many flexible ways, either self-directed by a user, or by staff who create structured assignments for students to complete.
Privacy
Everything a user uploads to PebblePad is private unless they decide to use the secure sharing capabilities to share content with an individual or group of people e.g., potential employer, tutor, research community, examiner or submit it for assessment / feedback.
Assessment with ATLAS
Work is set and marked via a section of PebblePad called ATLAS. ATLAS stands for Active Teaching, Learning and Assessment Space. It is the Institutional Space designed to support teaching and learning activities and can be linked to Moodle. Staff use ATLAS to manage submissions, monitor progress, provide formative and summative feedback and apply grades.
Alumni Accounts
Students can apply for an Alumni Account, and keep using the system after completing their studies.
Assets
Anything a user uploads or creates in PebblePad is called an Asset, these can be files, records of learning, achievement or goals and can be targeted toward a particular purpose.

An Asset contains personal content – information about you or something you have done that makes it meaningful.

You own your Assets and have full control over editing and who it is shared with. Staff and students can share Assets with other users, publicly on the web or to a workspace for assessment for tutors/assessors to review.

PebblePad provides 5 default resources, these are blank templates available to staff and students to use to create Assets. Assets can be identified by their icons being square. They are particularly useful for self-reflection and evidencing: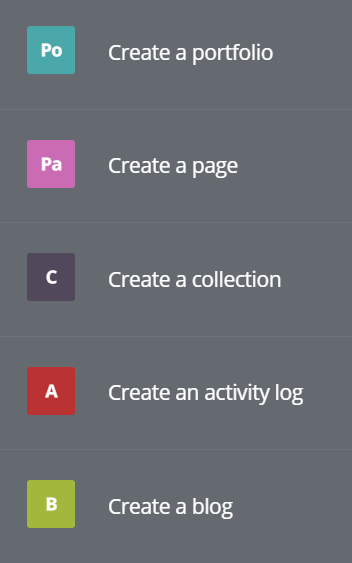 Blogs are made up of posts or records that are then displayed in chronological order.
Page is a single page evidence-based website, which can be used to present stories about your activities, learning, personal profile, etc. A Page can contain images and videos, it can also contain links to other Assets or to external items on the internet.
Collections are a single page list of individual assets that have been pulled together based on a criteria you specify (e.g. tags, asset type, date range). Collections can be static or dynamic so that new assets that meet the criteria are automatically added. You can add titles and subtitles to your collection to build a fuller picture of why it was put together.
Portfolios bring together two or more assets (typically Pages, but can include blogs and collections) into a website style portfolio presentation. They are a really good way of collating information and evidence.
Activity Logs give users a space to record the hours they spent on an activity. It can also detail the target number of hours. When users create assets, they have the option to add information about how much time they spent creating the asset. Users can then add the asset to their activity log, which will automatically calculate the total time spent on the activity.
Resources: Templates and Workbooks
Staff can also set up their own templates to create task-based resources, which are then filled in by students for specific learning tasks. Individual templates can be bound together into workbooks for a student to work through. Templates and workbooks can be identified as they have circle icons.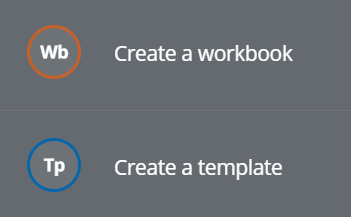 Once a student completes a task-based resource, it becomes an asset for the student.
Templates and Workbooks can be made available over time for students to record their development and achievements (e.g., evidencing of placements with fields for supervisors to sign off).
PebblePocket
Students can also download PebblePocket. PebblePad's app to create content whilst off-line. It can be synchronized to their account when they next have internet access, enabling them to reflect and evidence on the go. A really useful tool for students who are undertaking work placements.
Why should I use PebblePad?
To introduce eportfolios or blogs into the curriculum
To support reflective learning
To take a more student-lead approach to teaching and learning
To support the evidencing of competencies over time
To teach and assess in ways not supported by the traditional VLE
The main advantages of using PebblePad as a digital portfolio are:
Personalised feedback: It is possible to provide personalised feedback that engages students and improves performance and retention.
Versatility: PebblePad supports many different types of online interactions between students and tutors so that assessment and feedback processes can be built as a two-way dialogue in which students can also reply to their tutor's feedback.
Flexibility: Students can record evidence of learning in different digital formats and can easily shared that evidence with peers and tutors.
Creativity: PebblePad supports different types of assessment, including multimedia assessment, in addition to the traditional assessment methods based on written essays.
You can access a full range of guides on
Pebble+ help
or use the drop down links below.
PebblePad Basics: This video explains the PebblePad homepage - the starting point for all journeys on PebblePad.
Navigating PebblePad: This video explains how to navigate around PebblePad and find commonly used menus.
Get Creative: This video explains how you can choose from 5 different ways to build Assets that bring together your content.
Save and Share: This video explains how to save, preview and share PebblePad Assets with others.
Case Studies and Resources
For more information or help contact the TEL team: tel@yorksj.ac.uk