Frequently Asked Questions
The platform we use for YSJ Learn is Moodle, and is similar to the platform we use for our undergraduate and post-graduate courses, with many of the same activities, resources and plugins.
If you would like to develop an online course for external partners contact the Business Support team in the first instance with any questions about professional training and development.
Have a look at the 'Course Planning and Design' section in the page below.
The Technology Enhanced Learning (TEL) team are available to support strategic collaborations involving online learning. If you would like support to deliver online learning, we can help in the creation of pedagogically appropriate resources such as the creation of video content and interactive material to encourage active learning.
The TEL team, will be available to discuss your options once you have completed the new course 'analysis' stage (refer to the 'Course Planning and Design' section below).

The Business Support Team will refer you to TEL at that point.
Visit our YSJ Learn web page where you will find helpful guides and information about our Short Course & CPD learning platform.
Steps to a perfect CPD course...how the process works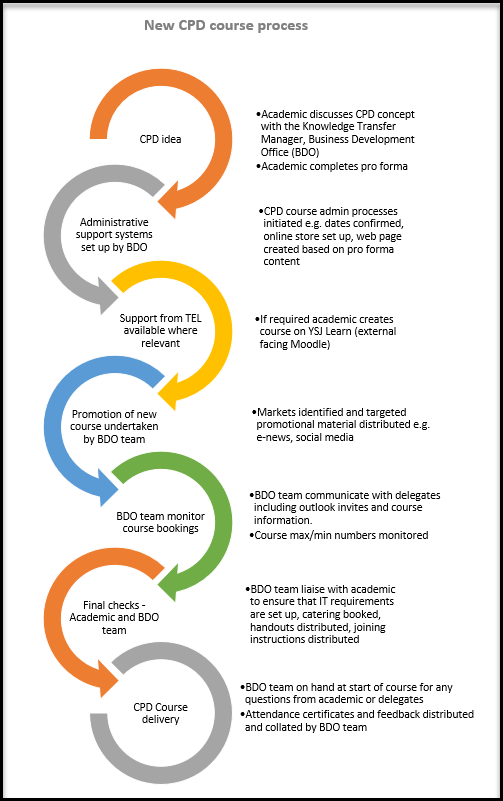 CPD idea:
Academic discusses CPD concept with the Knowledge Transfer Manager, Business Development Office (BDO)
Academic completes pro forma
Administrative support systems set up by BDO:
CPD course admin processes initiated e.g. dates confirmed, online store set up, web page created based on pro forma content
Support from TEL available where relevant:
If required academic creates course on YSJ Learn (external facing Moodle)
Promotion of new course undertaken by BDO team:
Markets identified and targeted promotional material distributed e.g. e-news, social media
BDO team monitor course bookings:
BDO team communicate with delegates including outlook invites and course information.
Course max/min numbers monitored
Final checks - Academic and BDO team:
BDO team liaise with academic to ensure that IT requirements are set up, catering booked, handouts distributed, joining instructions distributed
CPD Course delivery:
BDO team on hand at start of course for any questions from academic or delegates
Attendance certificates and feedback distributed and collated by BDO team
Overview of CPD training provision
Continuing professional development (CPD) at YSJU describes short or long training provision, which:
develops employment-related knowledge, skills and understanding, and/or
is aimed mainly at developing or updating the skills of people already in employment, or in the labour market but not actually employed.
The CPD may, or may not, carry credits. This is known internally as credit-bearing or non-credit-bearing CPD and will affect the assurance process you need to follow.
CPD provision is an integral element of any school's taught provision portfolio. Whilst the Business Development Office (BDO) support the delivery of all CPD training, Schools are responsible for maintaining a register of all their credit-bearing and non-credit bearing CPD courses and activities.
Please note: it is important that the University has an accurate CPD record for reporting to the Higher Education Business and Community Interaction (HE-BCI) survey which collects financial and output data related to knowledge exchange. As a result, there are some administrative requirements that the BDO office will offer to ensure this data is captured.
Continuing Professional Development (CPD) courses are available either online or in a blended delivery format where possible.
Guidance on the Quality Assurance & Award of Continuing Professional Development Programmes (CPD):
COURSE PLANNING AND DESIGN
You may find it helpful to use an instructional design tool such as ADDIE when creating your learning solutions / content.
ADDIE Instructional Design Tool
Addie stands for Analysis, Design, Development, Implementation and Evaluation.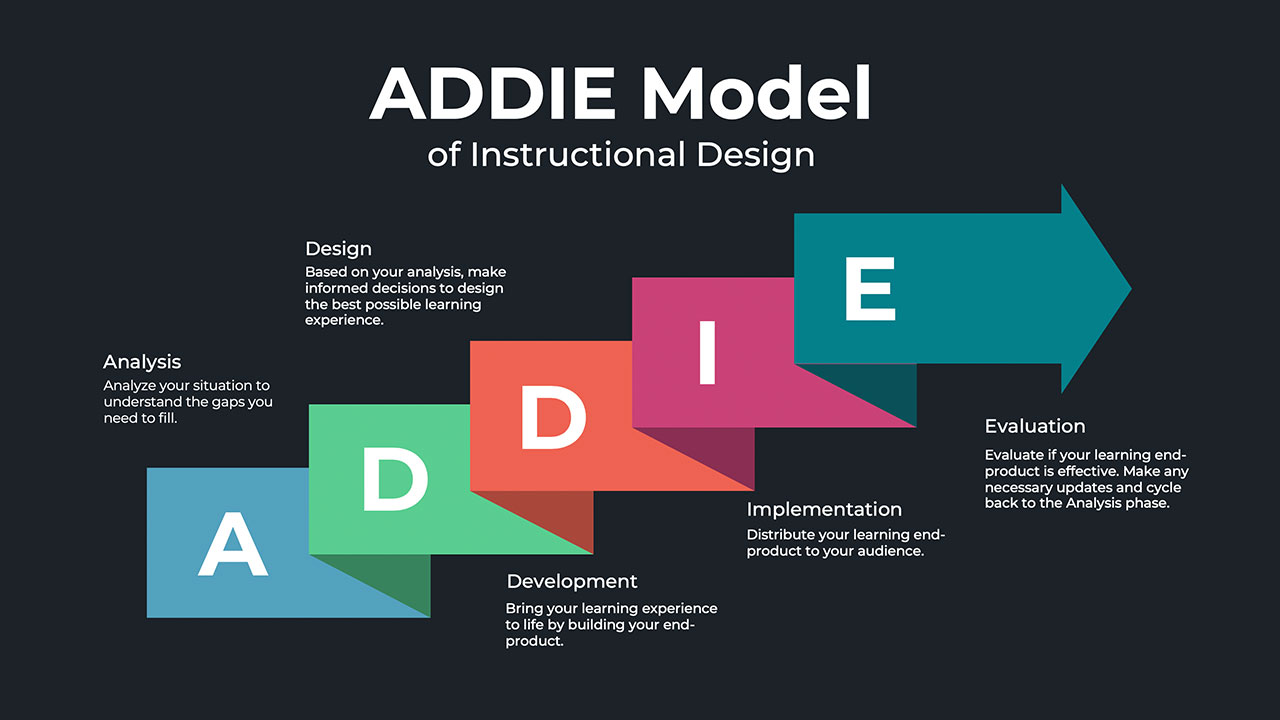 Use this tool to help coordinate the various steps in course design.
Stages:
For general advice around creating and managing a short course please contact the Business Development Office (BDO)


For pedagogical advice around designing and developing your short course please contact the Technology Enhanced Learning (TEL) team.