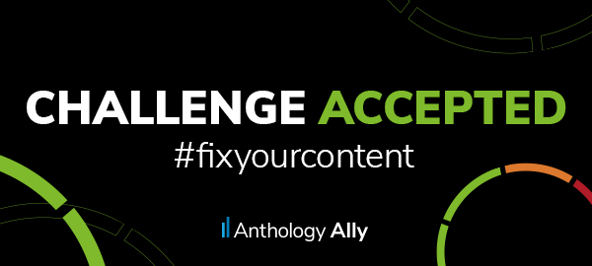 Global Accessibility Awareness Day 2023
On May 18th it will be the 12th Global Accessibility Awareness Day! On this day we try to bring attention to digital access and inclusion. We believe all students should be able to access digital resources and materials, this includes students with disabilities and impairments.
This year, York St John University will be entering the 'Fix Your Content Challenge' hosted by Anthology Ally. Having won in previous years 2020 and 2021, we would like to regain the crown this this year in 2023.
What Is Ally?
Ally is a tool that has been integrated into Moodle that helps faculty improve the accessibility of course documents. Ally monitors the accessibility levels of your Moodle courses and makes it simple to make fixes to make your content more accessible. Based off of your content, you are given an accessibility score out of 100. A score of 100 means your course is perfectly accessible to everyone, if the score is anything below that, there are improvements that could be made. With this score, you are also given advice on fixes you could make
These improvements could be creating alternative formats for text to assist , adding alt text to images and so on.
For a more in depth look at how to check your accessibility report with Ally, please see this video below:
What is the Fix Your Content Challenge?
Each year, Ally holds a contest in light of GAAD (Global Accessibility Awareness Day). This contest is the Fix Your Content Challenge where institutions around the globe compete to make the most accessibility fixes to their content over a 24-hour period.
Last year, 182 different institutions around the globe took part and winners were chosen from North America, Europe and Asia-Pacific. Our university would be competing.
For Fix Your Content day, we will be trying to to create the most fixes to our Moodle pages our of all European institutions. We have won this challenge in past years and it would be amazing to win again!
How can I take part?
At York St John, we will be encouraging all faculty members to create 'fixes' to all of their Moodle content. Documents that we can  These fixes include creating alternative formats for text documents and adding alt text to images. These fixes create a much more accessible learning environment for students. With enough combined fixes, we can take the crown.
Please see the guide linked here on fixes you could be making to your content during this years Fix Your Content Day.