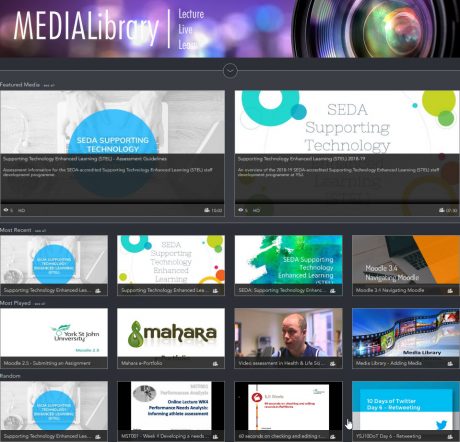 Over the summer our MEDIALibrary has had an upgrade, and has a new look and feel alongside some great new features and improved usability!
The MEDIALibrary makes it easy for staff and students to upload a range of media files like MPEG, AVI, Windows Media, Quick Time, and MP3 files. These are then encoded to a standard format for streaming delivery and can be viewed in a range of ways, from mobile to full screen for classroom delivery.
Your media content can then be easily embedded into other systems, for example in module pages in Moodle, or portfolio pages in Mahara.
Other ways in which you can use the MEDIALibrary include:
Giving video introductions to your lectures or seminars
Creating video summaries of your lectures key messages
Giving instructional demonstrations on how to perform particular tasks
Recording performances or practical exercises for peer review
Sharing evidence of good practice within your PRogramme, School, or with the entire University
A space for students to upload their own content for showcasing or peer feedback
Uploading lecture recordings (using Screencast-o-Matic Pro)
Using your mobile or tablet device to record video and upload straight to the MEDIALibrary
Learn more about the new features of the MEDIALibrary in our short online course…
The use of video, audio & multimedia has become more mainstream in HE teaching, learning and assessment in recent times. This is in part due to the accessibility and ease of use of equipment and software, but also due to the growing realisation of the pedagogic benefits of video content.
Here in the TEL team we have a range of video equipment & software, including; recording booth, video camera, HDMI capture device, microphone, lights, chromakey green screen, and screencasting software. We are able to help staff create a wide range of video content for use in teaching, learning & assessment.
How are you using audio and/or video in your teaching? Let us know in the comments below…
For more information or help contact the TEL team: tel@yorksj.ac.uk
Phil, Media