Moodle 2019-20
In order to carry out our annual upgrade, Moodle will be unavailable between 8am – 12pm on Wednesday 24th April.
Moodle
This evolutionary update focusses on communication and enhanced usability and accessibility, including:

New Moodle Theme – brand new responsive design, with support for new course formats, such as Collapsed Topics, Grid or Buttons, and bootstrap elements such as Accordions or Tabs within courses.
Improved Course Overview – Sort, favourite, hide and display courses more efficiently thanks to the welcome Course overview improvements on your dashboard.
Useful New Dashboard Blocks – Keep up to date with the Timeline block, the Starred courses block, the Recently accessed courses block and the Recently accessed items block, all available for the dashboard.
New Messaging Interface – Messaging enhancements bring greater control over who can message you along with the ability to favourite messages and engage in group messaging.
Directly Record Sound & Video – Buttons in the text editor allow you to record directly into Moodle.
Record Assignment Feedback – Media and other file uploads are now permitted when grading assignments.
Quiz Improvements – The drag and drop markers question type is easier to edit, the Quiz statistics report has improved usability, and you can now specify accepted file types for the Quiz essay question.
Badge Improvements – Award badges based on other badges, award badges based on new criteria, such as user picture upload or previously awarded badges, and add more information to your badges, such as endorsements, with support for Open Badges v2.0.
Course Design

Following on from our Moodle Audit in 2018-19, we're proposing a new approach to course design and minimum standards for 2019-20. In order to simplify the process, improve usability, and hopefully increase standards, we have consolidated the minimum standards checklist and exemplary course rubric into one simple, easy to follow, guide to course design, which will appear at the top of each new course (and can be subsequently removed).
This is intended to facilitate and encourage a consistent approach to the use of the VLE across the university by allowing staff to align their practice in four major areas: Course Design, Interaction and Collaboration, Assessment, and Learner Support.
Ally




To support our commitment to be a more inclusive campus, we're introducing a new tool called Ally into Moodle courses to help improve the accessibility of your course content. Ally doesn't change how anything works in your course and won't affect your course files.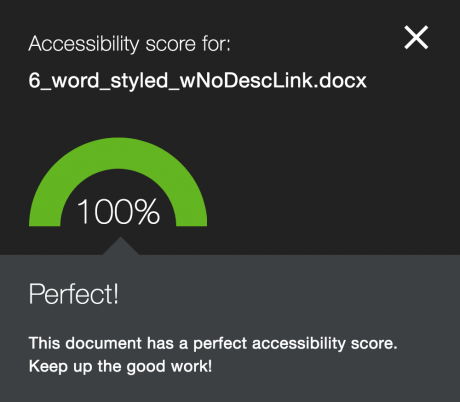 After the update, you'll notice in your course red, orange, light green, and dark green gauges next to your course files. These are 'Ally Indicators' and they let you know the accessibility of the file. The indicators are only visible to tutors in the course. Simply click the indicator to read detailed feedback about what the accessibility issues are with the file, why they matter, and how to fix them.
Improving the accessibility of your course content will not only help ensure students with disabilities can access your materials, it will also improve the learning experience for students who use mobile devices as well as who want to engage with the material in a different way. Ally automatically generates 'alternative formats' of your course files, and makes them available to you and your students by clicking the dropdown icon next to the file name. The alternative formats don't affect your original file and allow students to access an HTML version for their phone, an ePub version for their tablet, an MP3 version for audio, and electronic braille for braille readers.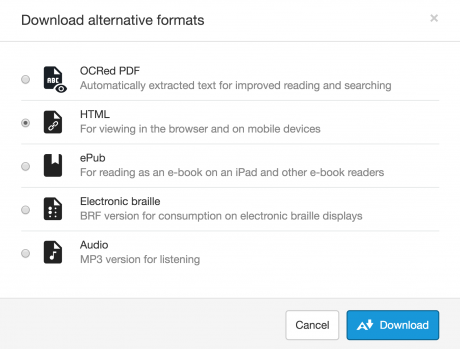 We hope you will take some first steps in using Ally to improve the accessibility of your course content, as well as encourage students to take advantage of the alternative formats.
Find out more about Ally at https://tel.yorksj.ac.uk/ally/
Turnitin: PeerMark
PeerMark is a peer review assignment tool. Tutors can create and manage PeerMark assignments that allow students to read, review, and evaluate one or many papers submitted by their classmates. With the advanced options in PeerMark tutors can choose whether the reviews are anonymous or attributed.
The basic stages of the peer review process:
Tutor creates a Turnitin assignment.
Tutors creates a PeerMark assignment and sets the number of submissions students will be required to review, and creates free response and scale questions for students to respond to while reviewing papers.
Student papers are submitted to the Turnitin assignment.
On the PeerMark assignment start date, students begin writing peer reviews.
For each assigned paper students write reviews by responding to the free response and scale questions.
Students receive reviews as other students complete them.
Once the PeerMark assignment due date passes no more reviews can be written, completed, or edited by the writer
Find out more about Turnitin at https://tel.yorksj.ac.uk/turnitin/
More Info…
We're holding drop-in sessions for anyone who wants to see and try out the new version of Moodle, including Ally, before the upgrade, just come along, no need to book:
Monday 15th April 12pm-2pm FT210
Tuesday 16th April 12pm-2pm FT210
Wednesday 17th April 12pm-1.30pm FT112
If you have any questions, then please get in touch with the Technology Enhanced Learning team: tel@yorksj.ac.uk | @YSJTEL
Phil