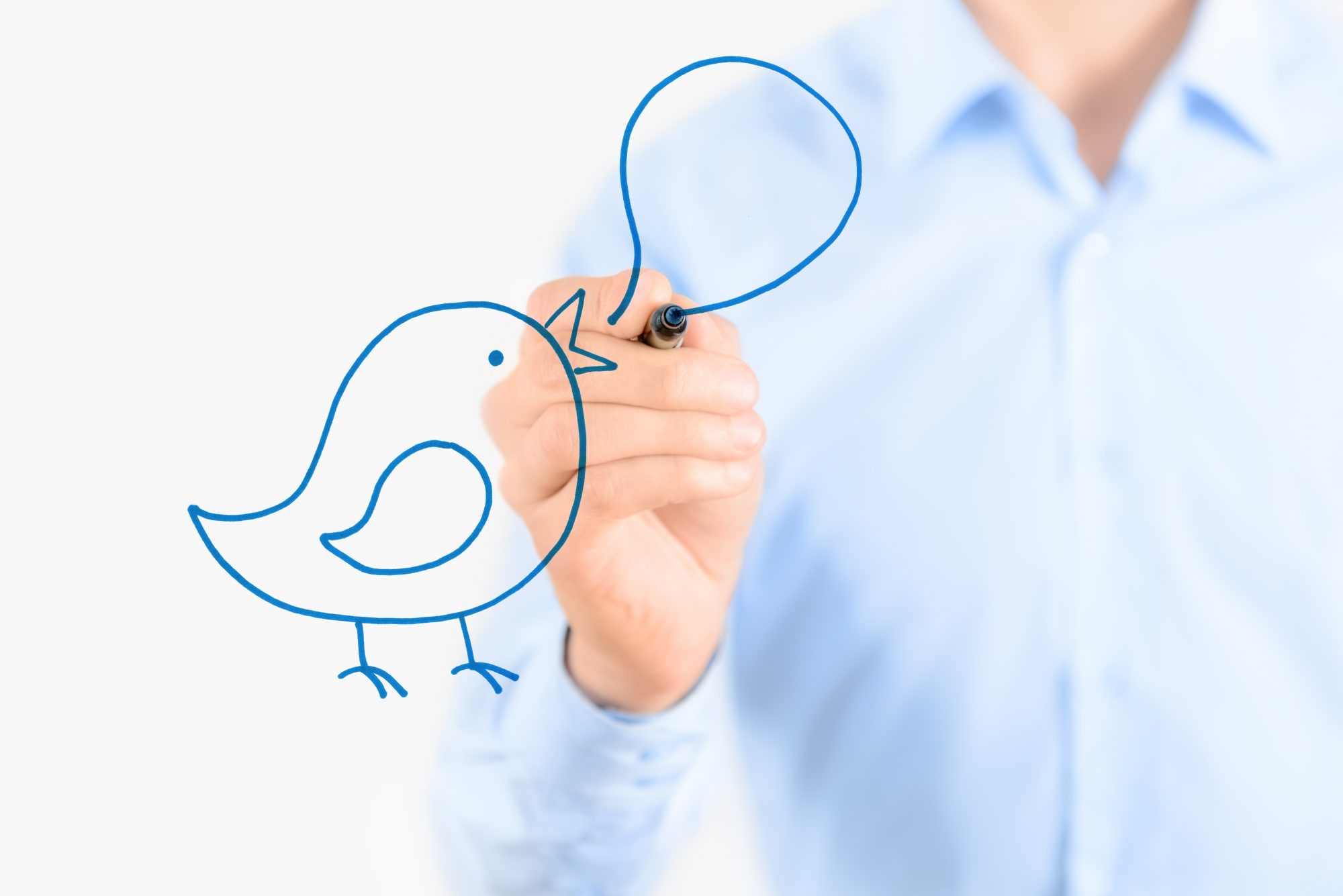 Managing Information
| | | | | | |
| --- | --- | --- | --- | --- | --- |
| Blog: | 5mins | Videos: | 15mins (total) | Task: | 20mins |
Yesterday, we looked at some useful ways of filtering out the 'noise' on Twitter by tailoring what you see on your feed. Today, we'll go a step further with managing Twitter content and introduce some tools that can be used in conjunction with Twitter to help you get the most from it. If you're brand new to tweeting, don't worry about experimenting with all of these today. This is probably the most advanced post of the series, so you can always come back to it when you have mastered the basics and ready to branch out, perhaps in a few weeks' time.
Pinning Tweets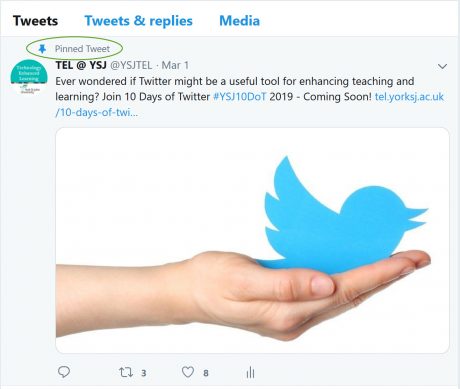 Twitter allows you to 'pin' one tweet to the top of your timeline on your profile page. This keeps the tweet at the top of your profile and stops it moving down your feed as you add new tweets. It's a great feature if you want to draw people's attention to a particular tweet and it means that this tweet won't get lost among the fast moving dynamic content on twitter. To pin a tweet to the top of your profile page, click the 'More' icon on the Tweet and select 'Pin to your profile page'. You may need to refresh your profile page in order to see your pinned tweet.
To unpin a tweet follow the same process, only this time select 'Unpin from profile page' from the menu that appears after clicking the 'More' icon.
Searching Tweets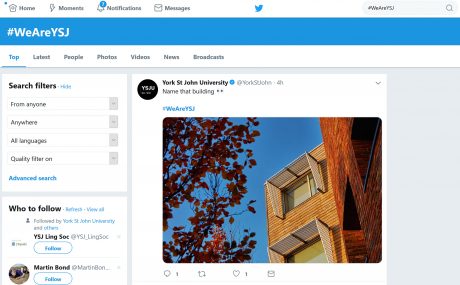 You can search for tweets by username, hashtag or just by a keyword. The search box is at the top of the screen in the right-hand corner. Twitter allows you to organise the search results by the most popular tweets (Top) or all results (Latest). Additional options to filter the search content are available by using the 'Search Filters' options from the menu to the left of the results feed. You can filter by People, Photos, Videos, News and Timelines and also by people you follow and people near you. You can copy the URL (link) from your search results page to share that search with someone.
If you find yourself repeating a search regularly, you can save it so you don't have to keep performing it. To save a search, select 'More' in the top right-hand corner of the timeline after you have performed it, and choose 'Save this Search'. The next time you want to search for this topic (hashtag, person, location) it should automatically appear in a drop-down menu when you select the search box.
Finally, you could also perform an advanced search – this allows you to narrow down the tweets you're looking for by words, by the person sending or receiving it, by location and by a date range.
The advanced search feature can also be found in the 'Search Filters' options from the menu to the left of the results feed after you've conducted an initial, basic search.
Tweet Activity Dashboard
The Tweet activity dashboard is a tool you can use to learn more about your Tweets and how they resonate with your audience.
To get started, log in to analytics.twitter.com with your Twitter username and password to turn analytics on for your account.
To access your Tweet activity on a desktop or laptop computer, visit analytics.twitter.com and click on Tweets.
Deleting, Archiving and Scheduling Tweets
Twitter is ephemeral. Tweets are short, throwaway observations, which capture the present moment, flow past quickly and are succeeded by more recent and relevant ones. We've looked at a way to favourite tweets, but once you've done this, why would you want to keep a tweet? Why would you want to tweet in advance?
The Past
Deleting Tweets
Let's look first at deleting. You can delete your own tweets by clicking the 'dots' icon located underneath the Tweet next to 'reply', 'retweet', etc. From the menu that appears simply select 'Delete Tweet'. If you make a mistake in a tweet, it might be less confusing to send another tweet with a correction rather than delete one that people may already have seen. However, you can't delete someone else's tweets, so if they've already retweeted you, taken a screenshot or archived the tweet using some of the options below, it might be too late to stop your tweet been recirculated!
Saving Tweets
But what if you want to keep tweets, either your own or someone else's? Why might you want to do this?
Perhaps a discussion on Twitter helped you to think something through, and you want to keep the discussion so you can work it up into a blog post, or integrate it into a chapter or article later
Maybe there was a good twitter 'backchannel' of livetweeting at a conference or other event, which you want to preserve either for yourself or others
Perhaps you want to preserve a selection of good advice or observations on a topic, when you asked for suggestions on Twitter and got some great responses. You might want to keep and share them with others.
Maybe you want to keep a record of all of the tweets from a particular module instance.
Bookmarking Tweets
Bookmarks are an easy way to save Tweets for quick access later. From articles and threads to videos and GIFs, timelines are packed with Tweets that you don't always have time to fully explore in the moment. Now you can save them for later.
To bookmark a Tweet, tap the share icon under the Tweet and select, 'Add Tweet to Bookmarks'. To find it later, tap 'Bookmarks' from your profile icon menu. You can remove Tweets from your Bookmarks at any time. Also, only you can see what you've bookmarked.
Moments
Twitter Moments are curated stories about what's happening around the world – powered by Tweets. It's easy to create your own story with Twitter Moments.
To create a new Moment:
From the Moments tab, click the Create new Moment button.
Click the Title your Moment field to give your Moment a name.
Click the Add a description field to type in a description for your Moment.
Choose Tweets to add to your Moment:
Add Tweets to your Moment
Twitter Archive
Downloading your Twitter archive to allows you to browse a snapshot of your Twitter information, starting with your first Tweet.
Go to your account settings by clicking on the profile icon at the top right of the page and selecting Settings from the drop-down menu, click Request your archive.
The Future
And what about future tweets?
You can schedule tweets to send themselves automatically later on. Although Twitter is a medium which captures the moment, there are several reasons why you might want to do this:
If your following contains people in a different time zone who are most likely to be online in the middle of the night, and you want to catch their attention.
If you have collected a lot of links you want to share, but don't want to overwhelm your followers with lots of tweets at once (see this example of an awesome workflow, from Pocket to Buffer to Twitter!).
If you want to tweet repeated information, updates or reminders, perhaps about an event you're organising, a blog or article you've written or a deadline for a job or funding opportunity, without having to remember to do it.
If you're away but want to keep some presence on Twitter.
If you want to release a link to an article, or lecture recording, to students after a lecture or seminar.
Tweetdeck: Scheduling Tweets
TweetDeck allows you to schedule Tweets in advance. If you manage multiple accounts through TweetDeck, you have the option to schedule Tweets for each of them. See our TweetDeck blog posts for more:
Buffer
If you're mostly concerned with scheduling and are not interested in Tweetdeck's host of other features, you could use an app called Buffer instead.
Activity!
So there are a range of ways to stay on top of all the information that's being shared with you by the people you follow. Choose one that looks useful to you, and experiment with it! Let us know how you get on using the hashtag #YSJ10DoT.
There's quite a bit there to play with! Don't worry if you're still catching up – so are others, and hopefully the conversation will be continuing on #YSJ10DoT for quite some time!
Phil (@PhilVincent)
---
Further reading:
---
---
Ten Days of Twitter for Learning Developers was originally adapted from a similar programme for STEM researchers, also created by Helen Webster. The materials are available under a Creative Commons license CC BY-NC-SA.

Ten Days of Twitter has been adapted by Technology Enhanced Learning for use at YSJ, and is licensed under a Creative Commons Attribution-NonCommercial-ShareAlike 4.0 Unported License.